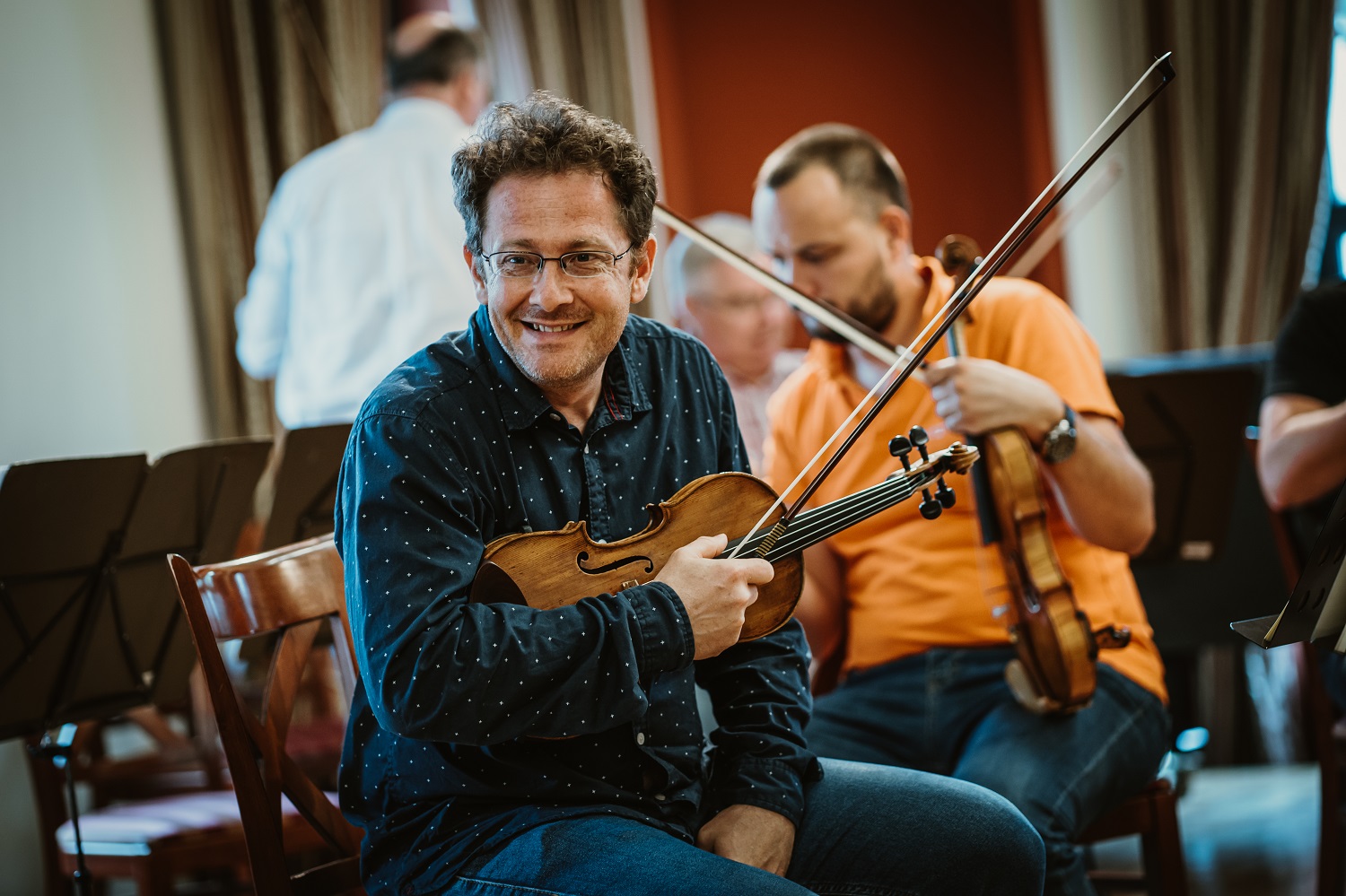 We are discussing the new season ticket of the Franz Liszt Chamber Orchestra with its concertmaster Péter Tfirst.
You came out of the rehearsal room with a smile on your face and I felt that the atmosphere was very good among the other members of the orchestra.
Yes, everyone is very positive today, on one hand we had a few relaxing days after the last turbulent period with a chance to recharge our batteries, and on the other hand – if I may give you a little insight into the private life of the orchestra members – we just had the opportunity to welcome our cellist Gyuri Lukácsházi as a new father with his first child.
Congratulations. Am I right thinking that the "turbulent" adjective you have just used is more of a boast than a complaint?
It has been a busy month; let's just say it almost resembled our life before Covid, which is basically a good thing. Plenty of concerts with complex programmes, while we also had a tour in Spain finally with great success – no, we are not complaining by any means.
And you have just announced the programme of your season ticket at the Academy of Music for the next season.
I am sorry to say, but you are mistaken: after a long while, we will have two season tickets for the 2022/23 season and we have only announced the first one for Budapest. We are sticking to the four-concert series structure, but after the October-January dates of the first series, we are preparing four more concerts of our own, one for each month from February to May. We are celebrating our 60th birthday in 2023 and we can't imagine a better way to do so than with a series of concerts.
No wonder you are saying that you can only share the details of the first series now.
Secrets and surprises always add to the festive atmosphere, and playfulness is close to our hearts. The last two years have overturned many of the previous "rules" in the field of concert organization, and it is not easy to negotiate with venues or guest artists. Nevertheless, I think that the festive year will sit in a worthy framework – but let's talk about that at the beginning of September, when I will give you all the details.
You will have your first concert at the Academy of Music on 1 October, World Music Day, playing together with your artistic director István Várdai. How are the planning responsibilities divided between you?
Anyone who knows István is well aware that he is a storehouse of ideas. He is not soaring only when playing music, but he keeps flooding us with better and better concepts – we really have to pull ourselves together if we want to follow him. As a soloist, he is of course less confined by the chamber music repertoire, which is perhaps why he is more daring in his approach. Let me add, after our brainstorming sessions, it is no small task for the management of the orchestra to turn plans into reality.
On the first concert we will play the two Haydn cello concertos, which I think is a musical summary of the two and a half year's work we shared. It mirrors the coordination that has developed between István and the orchestra, manifesting in the quality of the production. I personally know some people who have already heard us play the concert pieces several times, yet they keep buying tickets to hear us play them live again. Following the break, we will enhance the experience with fresh, new elements of symphonic orchestral-scale renditions. On World Music Day, we will be joined by the talented young musicians mentored as part of the ongoing Masterpiece project, and together we will play Beethoven's Symphony No. 3, conducted by István.
Your next concert will feature a pianist who has never been to Hungary, and you will be the first to introduce him to the Budapest audience.
You know, looking back at the six decade-long history of the orchestra, it is easy see how many artists have played with us for the first time ever in Hungary and then became a frequent player in the national musical scene. We prefer our audience to be more open in this respect. I hope that our name is a guarantee for our soloists, them being the most sought-after musicians in the world. I will not list Benjamin Grosvenor's milestones and prizes here, as anyone interested may find them on the appropriate forums. He is, in my opinion, a great musician, and he has chosen one of our biggest favourites, Mendelssohn's Piano Concerto No. 1, to perform with us on 9 November. Before that, we will serenade a bit with Mozart's Little Night Music, which will be followed by an Arensky String Quartet emphasizing the virtues of our strong cellists.
I see another piece by Karl Amadeus Hartmann in the December concert programme. Following the highly successful Concerto funèbre this May (with Júlia Pusker as the guest artist), are you more interested in the works of the 20th century German composer?
For me, this concert is the most exciting in the series, and for the orchestra it will probably constitute the greatest professional challenge. There is certainly something to what you are saying, but only in the sense that we are opening up more bravely. The audience of the Academy of Music has let us know that we can be bolder, more modern, as there is receptivity and a fresh approach to music. By the way, we are still looking into the history of the Hartmann chamber concerto scheduled for the programme, but have not found any traces of a performance in Hungary yet, which might mean that it will be its Hungarian premiere.
Liza Ferschtmann, the soloist in the Beethoven Violin Concerto, is one of the leading figures in the European scene of classical music, and will play a central role in our concert, leading the orchestra as well as playing solo, "doing some chamber music" with us in relation to the Hartmann piece, which will require some changes in our formation. Pablo Barragán will also join us to play the clarinet solo. As he has already played with everyone who matters, it was high time for him to be our guest.
And on the season's finale you will share the stage with Emmanuel Pahud.
Yes, of all the foreign soloists we had in the last 10 years, Pahud is the one we remember most dearly, along with Martha Argerich. In his case, we found all our collaborations exceptionally sensitive; he has a brilliant personality. I am delighted over the fact that he is able to join us, closing the season, as well as opening the series of concerts for the festive year.
I don't see the usual fancy title on your season ticket.
You don't always have to name everything. Unless it is a thematic concert, presenting works from, say, a given period, I don't like to give titles to a programme. For something that has a complex content and its structure is under various influences, it is not easy to come up with a fitting label, especially when it is expected to be unique. This is where all the terms "exciting", "exceptional", "fantastic" etc. come into the picture. I understand that there are marketing aspects, but perhaps it is on the occasion of the forthcoming anniversary that I say: it is the season ticket of the Franz Liszt Chamber Orchestra, and that is enough. This season we started to feel, when the audience returned to the concert halls, that the atmosphere of the old days was taking shape again. Members of the audience kept coming back, knowing that they will be treated to a real feast.
It is not so easy to lure people back to the auditorium, but based on the results of the first week of season ticket sales, I am optimistic. It is particularly pleasing to see the return of our circle of friends, and we are grateful for their loyalty and will do our best to reward them.