Cello / Leader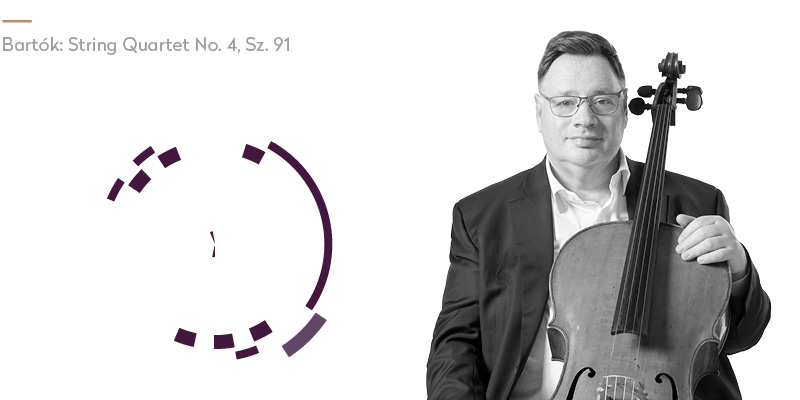 My father was a cellist. He played in the State Concert Orchestra led by János Ferencsik and taught at the Béla Bartók Secondary School of Music. I grew up in Akácfa street, district 7, and, as my father worked all day, my mother stayed at home to raise me and my sibling. I loved music and knew most pieces by heart I heard at home. When I started playing the cello it went well right from the beginning.
Being a musician is somewhat like being an athlete. Practice is like training; you must work hard to be successful. Being said, a kid playing an instrument does not have many friends; while the others went to Klauzál square to play football and many other things, I went home to practice and to do my homework. My mother was at home, so I did not even have the chance to skip practicing.
After that, I got admitted to the conservatory.
For a long time, I thought I would be a soloist one day. I entered countless competitions, I won a national competition at the age of 14, later came in second at an international competition, and received Philharmonic Scholarship as a soloist. As a freshly graduated musician, I–together with three other musicians, playing on string instruments–had the opportunity to perform with a wind ensemble led by Kálmán Berkes in the Great Hall of Liszt Academy. The concert went well, so we asked ourselves: why not to stay together in a quartet? That is how the Keller String Quartet was founded in 1987; I was a member until 1998. We took part in several competitions, coming in the first three places several times, winning two (Evian, Paolo Borciani). Contracts were made with several foreign impresarios and made various recordings (all string quartets of Bartók in a Swiss studio). We travelled the world. There were one year, when, summing all our foreign trips, we spent six months abroad. Our families stayed at home, so it never really occurred to us to leave the country.
Mária Frank, the legendary cellist, reached out for me when I left the string quartet after eleven years. She called me every night asking me to join the Franz Liszt Chamber Orchestra, but I felt the urge to still search for my own path without a commitment. But when one of their cellists couldn't take part in the concerts of the following year due to illness, Mari did not asked me anymore, but simply told me to "come tomorrow", I did not have an other choice than coming indeed. And I have not regretted it. For me, chamber music is about giving and receiving; we talk to each other with instruments. The most memorable moments are born when we really do pay attention to each other, even may risk as the senses of the other person are open and ready to react. This can lead to something special, dividing a great execution from artistic work, which can be called suggestive performance.
A love the beautiful sound of cello and any great sound; I have always been looking for these, during our concerts or in the performance of my academy students. I received this attitude from my greatest teacher, pianist Ferenc Rados. He kept thinking and looking for ways to play something even better. This all can be dangerous above a certain level, as it leads to a restless life. Having said that, I think it is worth it, mainly because of the moments when certain sounds come out even better than perfect.
(Notes by Sarolta Gálfi / www.azember.hu)