Violin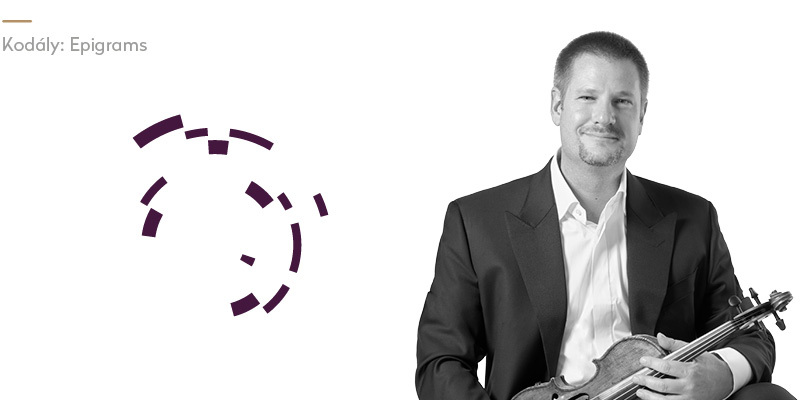 I was about eleven when I heard the Franz Liszt Chamber Orchestra in the TV program called Zenebutik. It was astonishing! Their energy caught me, I felt as if I were absorbed in the tunes; I wanted to be part of this magic. It came true–and that is my personal success.
Even if I were interested in so many other things, I could not imagine my life without music. It is my prime element: I have so many things to say, I love to think in colors and proportions–it is important for me to be able to interpret all this.
For a while, I tried composing, because I found it fascinated that on the five lines of sheet music, with the same twelve sounds I can feel the spirit of musicians, new colors, scents, gestures, and different worlds.
As a university student, I was interested in making violins as a profession; I could never get enough of the material of the violin. I still work with wood but only when dealing with wine; I made several tools, of which I am still proud of. Making wine is my other great love besides music. I discovered these are quite similar: both carry infinite messages, touching a part of people's soul which only a few things can reach in our material world. Both show spirituality without which we were only experience this material world. These moments, when we leave our everyday circumstances, are basically the meaning of life–music and winemaking as a hobby help me to find these moments. When it happens, there is no more paying bills, shopping, family logistics, and morning traffic jam. Whenever I can afford, I run to my cellar (not a wine cellar, unfortunately), check my wort, how the ratio of acid and sugar has changed, what new scents has been born. I do it only not to ruin whatever was created by God, as this process would happen the same way even in a barrel. I simply monitor, just the way I do when I listen to the sounds of freshly baked sourdough bread.
Grapes.
Flour and water.
Order.
The man only transmits.
Like a musician does, between God, the musical piece, and the audience. Our responsibility is to lift the audience from the average day and make it a celebration with our concert.
The Franz Liszt Chamber Orchestra is the best place to practice all this. We 'talk' by resonating and elevating each other, including the audience.
It is a blessing when I can finish a day or a concert by saying I was on a journey, and during this some special moments were born that I could be a part of.
It can be playing music, my four daughters, winemaking, baking, or anything else really. All of these are opportunities to create something new, as parts of a bigger entity.
(Notes by Sarolta Gálfi / www.azember.hu)